BitWise Control released their Project Editor Software last week. This is important to D-Tools subscribers because it moves their BC4X1 out of being an IR to IP connectivity device to being an automation controller with a wide variety of control capabilities.   They are offering all D-Tools subscribers a free full version of the software for the next 30 days.
BitWise Controls, manufacturer of IP-enabled control products for commercial and home automation systems, announces the release of Project Editor Software for on-board macro creation, custom GUI editing, and configuration of hardware parameters. The software moves the BC4 away from being a simple IR or RS232 to Ethernet converter to being a feature-rich automation solution priced for mass market appeal.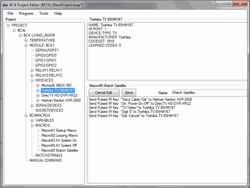 Project Edtor Software adds macro creation and easy device setup to Bitwise Controls' commercial and home automation controller, the BC4x1.
Lance Beck, CEO of BitWise Controls, says "Macro functionality gives power to many commonly used interface options, like remote controls, iPhone/iPad apps, PC based control software and touch screens. Our new software allows users to take full advantage of the scalability and distributed control capabilities of the BC4 system."
Using the new BC4 Project Editor software, users can create powerful activity macros, such as "System On", "System Off", "Watch DVD", favorite channels, lighting scenes, and more. Configurable user variables and signal sensing parameters allow the system to know which products are on or off. This allows users to create reliable control macros, even when using components that don't have discrete power or input commands. Macros can be triggered by apps from BitWise Integration partners, custom GUIs created using the Project Editor software, or even a traditional IR remote using the BitWise BC-IRI RS232 IR receiver.
Mark Buster, CTO of BitWise Controls, says "This software lets installers quickly and easily create and set up devices to be controlled. Once the devices are created, it's a simple matter of dragging device commands into macros, and even evaluate user variables or hardware states. The GUI design capability lets users create custom GUIs which can be used on many of the devices customers are already using, like desktop computers, mobile devices."
Ron Pitcock, Jr., Director of Business Development says "High end commercial and home automation does not have to be expensive. The BitWise product creates a whole new category in this market… affordable control solutions that offer features of much higher priced products. Businesses and consumers alike are looking for an affordable, easy to use control product." The BC4 can tie in video sensing, routable IR, bi-directional RS232 communication, digital input/output and analog input for a wide array of automation and control possibilities.
For more information about and to see tutorial videos about Project Editor Software, visit the web page at www.bitwisecontrols.com/projecteditor.php.
If you would like more information or to obtain your free software, please call:
Ron Pitcock, Jr.
720-746-2456
rpitcock@bitwisecontrols.com
About BitWise Controls
Designed and backed by over 20 years of mission-critical control, monitoring, and AV systems integration experience, Bitwise Controls is uniquely equipped to provide powerful and flexible control and automation products for the expanding commercial, industrial, educational, and residential control systems markets. Bitwise Controls was founded by veteran industry leadership in 2008 with the goal of offering innovative and reliable new products, designed, tested and manufactured in the USA. For more information, go to www.bitwisecontrols.com